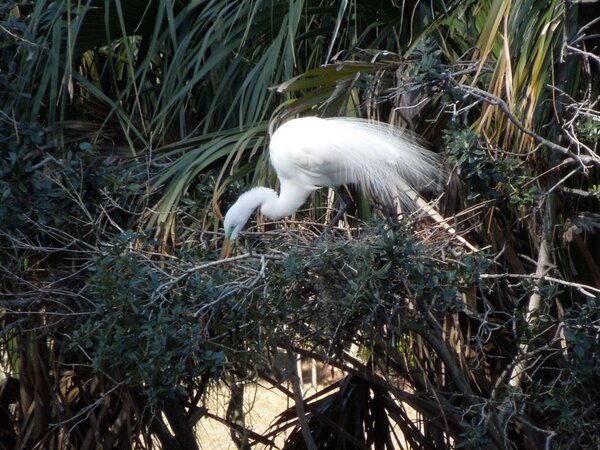 I have bragging rights as these amazing images are being captured by my son, David Love! I believe I have ooh-ed and ahh-ed over every single image he has shared with me. But it gets better! You can view his images, too, simply by following him on Twitter:
David Love @seapinesnature
I promise you, it will be such a treat! And one more reason to fall in love with Hilton Head Island all over again.
A Phenomenal Year for The Sea Pines Resort!
The Sea Pines Resort enjoyed a banner year in 2012 with an increase in occupancy, rental rates and revenue. Sales for our home and villa lodging surged up 16% from 2011. The average daily rate paid by guests was up 6%, as well. These results are a direct reflection of the value and services we offer our guests, our variety of upscale accommodations, the strength of our brand name in marketing and the unbelievable vacation packages we have created, which other agencies cannot match.
We are a "one-stop-shop" for our guests who wish to enjoy golf, tennis, fine dining and entertainment during their Sea Pines Resort vacation. Guests can view all of these fabulous amenities on our cutting-edge website, seapines.com, which attracts more than one million visitors per year and remains the most visited website on Hilton Head Island!
We are also proud to report that our advance reservations are currently up 11% over last year! Our newly launched online booking engine, which allows guests to search our inventory more quickly and easily, is a large part of this success. We continuously enhance our website and marketing for the benefit of our owners and guests.
I love following our local Chamber of Commerce's blog. They have such good info and golden nuggets from time to time – like this post from Lisa Allen in which she shares "Five Prime Place to Watch the 2013 RBC Heritage on Hilton Head".
1. Check out this year's new Heritage Lawn that extends from the 16th green to the 18th fairway. It's a perfect vantage point to stroll along to watch approach shots on the par-4 16th, the tricky par-3 17th hole right into the prevailing winds of Calibogue Sound, and along the fairway of the final hole that runs along the Sound that's packed with risk-reward. Just ask Brian Davis about 2010. A two-stroke penalty on the 18th handed the tournament to Jim Furyk. The Heritage Lawn also has a Jumbotron to watch all of the action on the course and concessions so you can nibble and sip your way through the action.
2. Speaking of social, planners have added a social media hub, too. The Hilton Head Island-Bluffton Chamber of Commerce is hosting the new Social Media Lounge next to the 17th green. Duck in and share photos, recharge your cell phone and use iPads to search travel info and post on social media platforms. It's all for free. You also can snap some fun photos using golf and RBC swag to share with all your Facebook friends. Will they be a little envious? Yeah, we think so.
3. The 15th green. That's one of my favorite places to watch all of the above–golf, people and the nature that makes Harbour Town Golf Links unlike anywhere else on the planet. Check out this video of Kip Henley nudging an alligator away last year so golfer Brian Gay could make a great chip shot, given the circumstances.
4. The 10th fairway. This is the must-be-seen place for locals. You also can spin on your heel and watch golfers come up the 16th hole. We're a very friendly lot, so get right in there and mingle. You can get some tips on local haunts others don't know about.
5. The 13th and 14th holes. These are among my favorite holes on the course to play, so I like to see how the pros handle Alice Dye's diabolical Mickey Mouse ears-shaped, railroad-tie-lined bunker that nestles up to the 13th green and the wickedly tricky par 3 14th that seems to have a golf-ball magnet in the water on the right.
To read more or follow Lisa Allen, click here!
Yes, really, all we do throughout the winter is eat and drink!
The Annual Hilton Head Island Wine & Food Festival is just around the corner and you will be thanking me of this reminder to get your tickets early and plan to attend. The whole week leading up to the Festival, beginning March 4th,  is always filled with delicious wine and food pairings offered by participating restaurants throughout the Island. But the big day, March 9th, is the actual day of the Festival where we get to enjoy wines from far and wide and gourmet delicacies enticingly served up by local restaurants.
Betsy Hinderliter, blogger for the local Chamber, has a great write up about what to expect. You can read it here!
The number of properties going on the market is slowing down, making a gradual turn to a potential seller's market as inventory decreases. The great news for seller's is that they are actually beginning to get more for their property. This is a sign of good things to come for all. view all the stats below.
Sometimes you have a meal that just makes you feel like you've done something so wonderful for your body, but to have it also taste good?!? Now that is amazing!
The credit goes to the talented Daphne Frazier, who studied with macrobiotic guru Michio Kushi of the Kushi Institute outside of Boston, MA. Daphne first came to the local Islander's attention through her delicious soups she sells at the weekly area farmer's markets at Honey Horn Plantation on Hilton Head and in downtown Bluffton.
If you are looking to be kind to your body and heed some of those new year's resolutions, head over to Daphne's Cafe at the Village at Wexford.
Bon Apetit!
UPDATE : Just saw this fabulous article written about Daphne's Cafe by Chamber blogger, Becca Edwards. Learn more about Daphne's Cafe and tips to stay on track with your new year's resolutions by clicking here!
Wine lovers come together for old-fashioned fun and wine-centric competition at the 2013 "Uncork" The Festival on Hilton Head Island, January 26th from 6-8 pm at The Beach House by Holiday Inn. The official kick off the to the 28th annual Hilton Head Island Wine & Food Festival, local festival sponsor teams and civic groups literally get their grape on during the hilarious grape stomping competition.
Learn more about this event, click here!
It's once again time for the highly successful "Restaurant Week" in the Lowcountry! This week-long event takes place from January 26 – February 3 and is modeled after the similar popular events in New York and Los Angeles.
Have you been wanting to try a new restaurant? Restaurant Week is a great opportunity to step out of your "usual fare" and try something new! We're planning on a visit to Ombra Cucina Rustica for some fine Italian dishes. Want to find a restaurant? Click here!
What Can You Expect in 2013?
Quick Look…
Hilton Head Area 

Island Wide

2012

 2011

 Percentage Change

 

Number of homes sold:

767

673

 13.97%

 

Average sale price:

$632,671

$654,018

-3.26%
What Can You Expect in 2013?
We have clearly seen the recovery in residential sales island wide continue and in many areas throughout Hilton Head prices are improving also.
Our villa communities have seen dramatic increases in sales in 2012 plus there has been a whopping 16% decrease in inventory this past year!
I am often asked where our market is heading and statistics reflect our continued recovery this past year. Throughout the entire island home sales are up with prices making a comeback and closed sales are averaging 93% of list price. The Big Winner in 2012 was villas with an exciting 20% jump in sales and 3% increase in selling price with inventory down 16% from 2011. This positive trend should continue into 2013.
Strong sales, attractive prices and amazing interest rates will make our New Year very exciting. Hilton Head Island is as popular as ever.